ASP.NET Web Pages
- PHP
---
Attention PHP Developers. Web Pages can be written in PHP.
---
WebMatrix Supports PHP
At first look, WebMatrix only supports Microsoft technologies. This is not true. In WebMatrix you can write full PHP applications with MySQL and all.
---
Create a PHP Site
In WebMatrix, create an empty site named "Demo_PHP", enable PHP (see picture below), create a new empty page of the type PHP, name it "index.php", and you have created your first PHP site.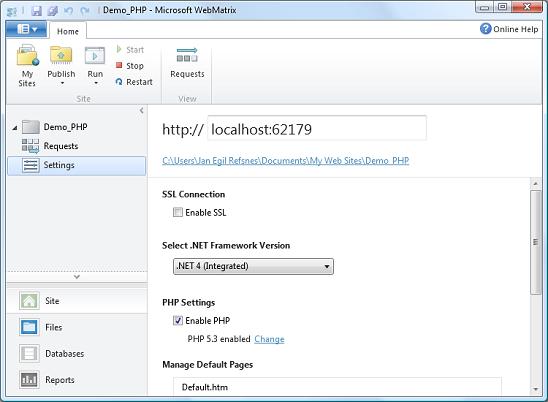 ---
Create a PHP Page
Put the following code inside the "index.php" file:
index.php
<!DOCTYPE html>
<html>
<body>

<?php
phpinfo();
?>

</body>
</html>
Run the file and see PHP at work.